Let's understand the information that Nexla provides about a dataset.
In your flows, click on the magnifying glass to see information about a dataset.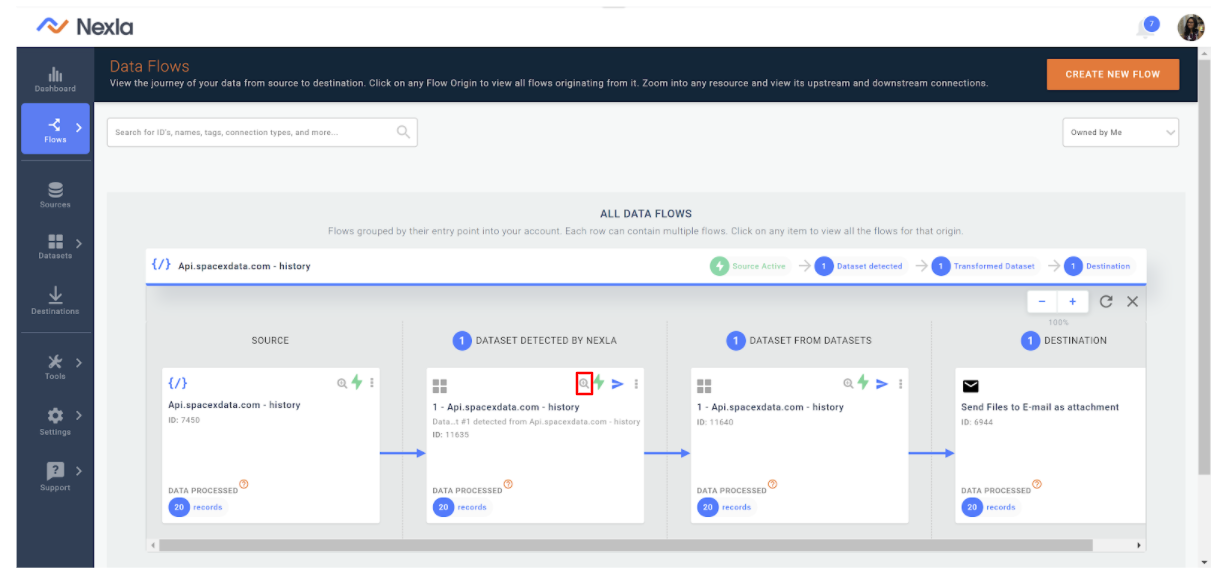 Or you can click on one of your datasets in your sources.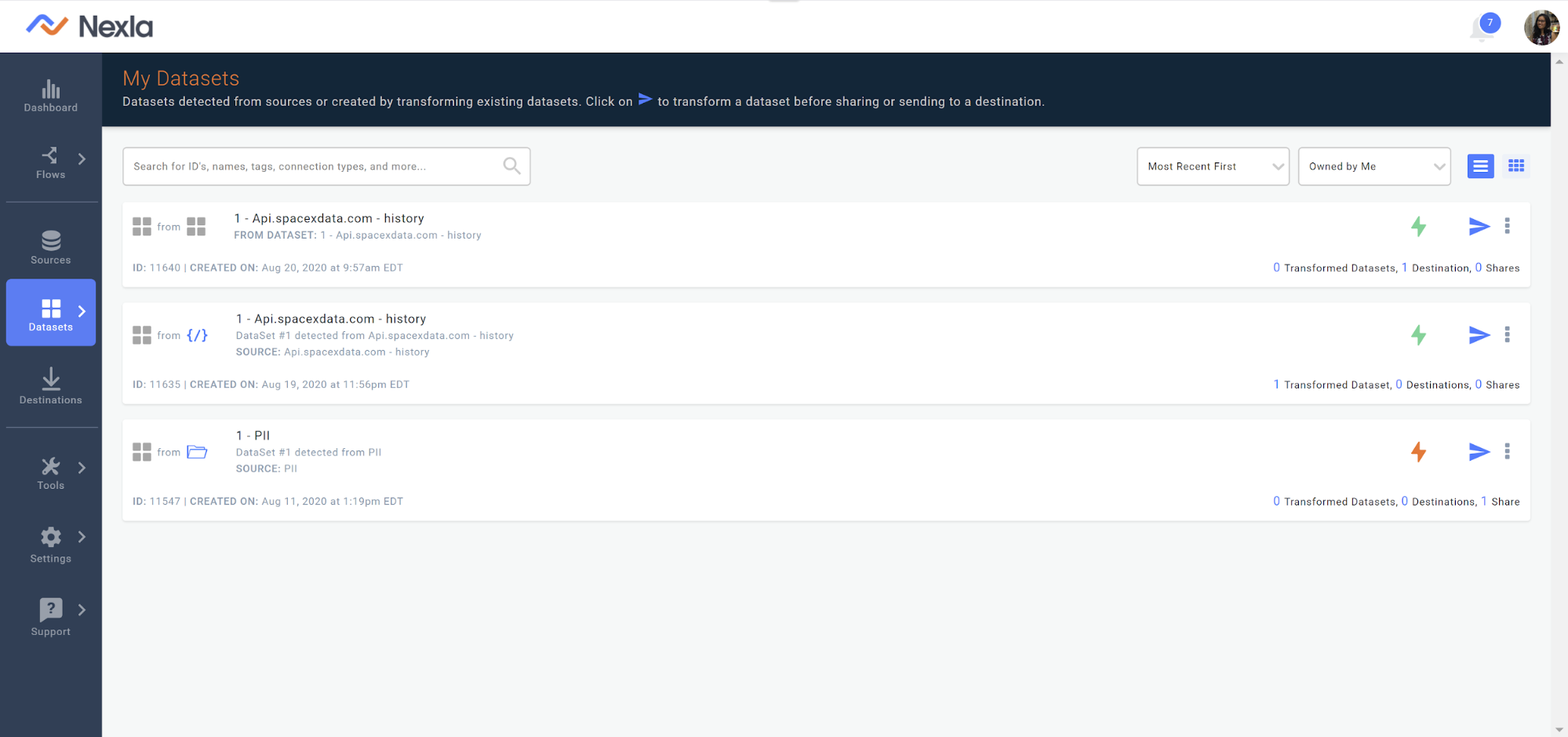 Overview
In Overview, you can see
Detected From Source

Dataset ID

Source Type

Number of Transformed Datasets

Shared with Users

Data Volume

Total Records

Last processed Data On

Tags

Created On

Last Updated On
The name of the dataset can be changed.

The description of the dataset can be changed.

Green indicates data flow is active while orange indicates it is inactive.

The airplane icon lets you transform your data.

The other options allow you to

Pause the data flow

Duplicate

Edit

Paste transform

Delete

This allows you to view the data flow.
Scrolling down, you can see Data by Records, Volume, and Errors over different time frames.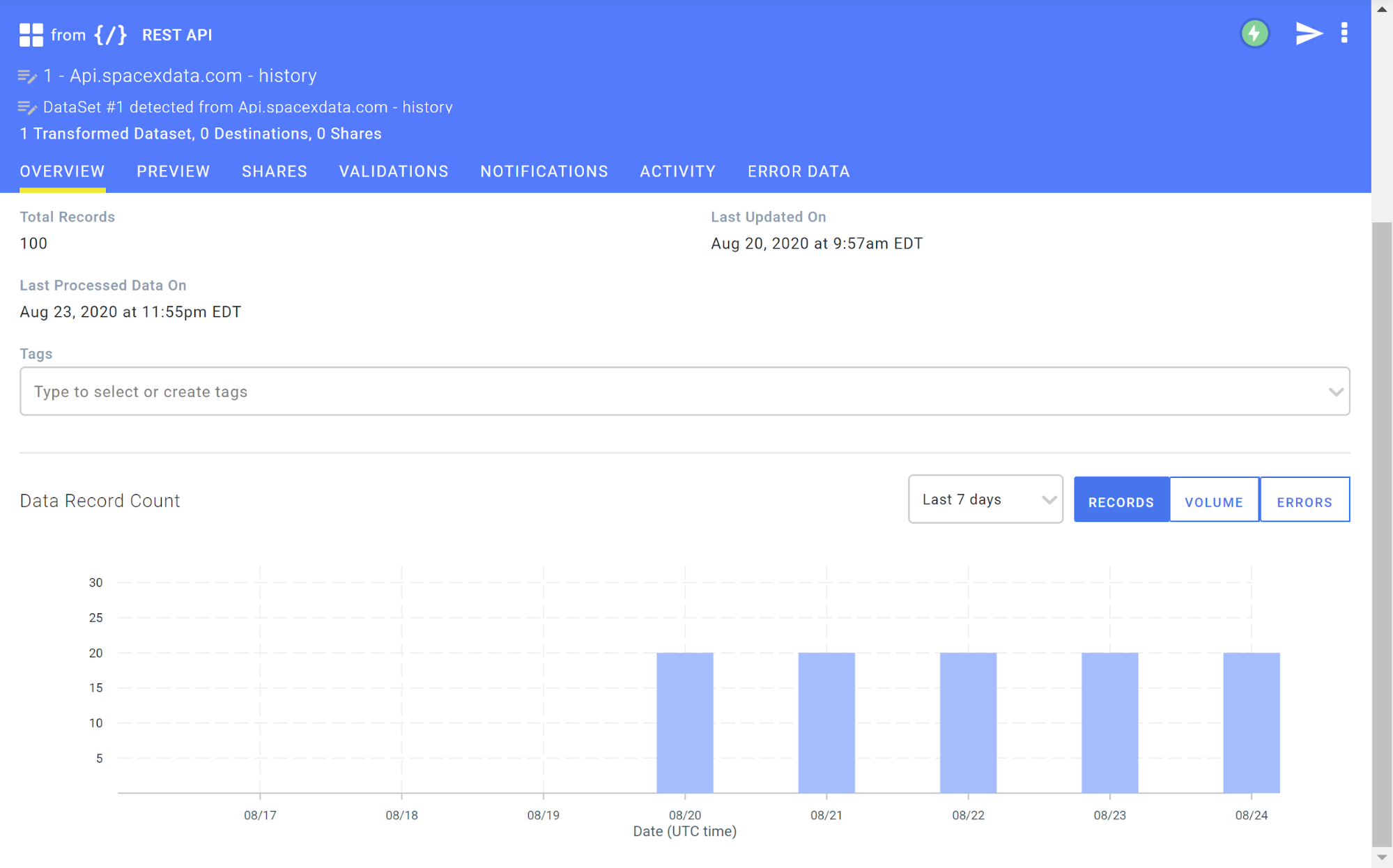 Preview
In Preview, you can see your data.
You can add a description to the attribute.

You can view the distribution of data.

The default view is by column. Samples can be viewed by rows or nested JSON objects. Samples can be downloaded.
Shares
In Shares, you can share
To email addresses

With entire company

With a team

Validations
In Validations, you see output records of the dataset that comply to rules you set up. If they fail the validation, they will not be passed to the next step of the data flow.
Notifications
In Notifications, you can view notifications for platform activity, system alerts, and data alerts.
Settings can be changed by going to Notification Management.
Activity
In Activity, you can view the history and changes that were made.
Error Data
In Error Data, you can view error samples such as those that failed to pass through this stage of the flow.
You can see exported error files if you have configured Nexla to automatically export all error data to your preferred file system. This can be done by clicking on Error Data Export.